All Saints' is an active parish when it comes to programming and outreach. Our church believes strongly in caring for those in our community. Among many outreach initiatives is our monthly hot breakfast that is run the third Saturday of every month from 9 – 11 a.m., where we feed anywhere from 80 to 120 people. Our annual Christmas hamper program which runs from mid November to early December supplies many people with a hamper for the holidays.
We are passionate when it comes to the ministry of the sick and those who come for prayers of healing and anointing with holy oil. Our healing ministry team is available for prayers of healing outside our scheduled healing services, usually the fourth Sunday of each month, and can be requested by asking one of our sides persons or the Rector, Rev'd Quenton Little.
All Saints' enjoys a good working relationship with the Crouch Family Resource Centre where we are host to a kitchen and food basics program that teaches individuals about proper nutrition and cooking methods. Al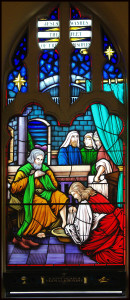 l Saints' is also the meeting place for many NA and AA related groups. Since 1914 All Saints' has been home to the 26th which is still active today and has, as of early 2015, merged with the 5th.
Other programs at All Saints' include Mid-Week Mass and Bible Study on Wednesdays beginning at 10:00 a.m.,  our monthly Men's Supper Group, Canterbury Group (ACW), Children's Halloween Party, just to name a few. Continuing outreach initiatives such as All Saints' Cares Cupboard for non perishable food items and having gently used clothing, mitts and slippers available from time to time are all carried on throughout the year.
We are happy to have added to our list of services a monthly Evensong, the first Sunday of the month at 4:00 pm. This is a great time of reflection and instruction that lasts about 30 minutes. A great time to connect with other members and friends of the congregation. We follow this time with a pot-luck of sorts.